Guide to Educating Employees About Your ESPP in 2022 - Part 1
April 07, 2022
A well-planned educational program is critical in driving the success of a company's employee stock purchase plan.
Unlike stock options and restricted stock awards, an ESPP requires employees to actively choose to participate.
Not only must employees voluntarily sign up for the plan, they must also agree to contribute funds to the program out of their paychecks. None of this will occur if employees don't understand the plan and its benefits.
Let's face it. We want employees not to just be interested in the ESPP, but rather to learn enough about it that they are excited about the prospect of joining. And, not because you are selling them anything, but because they see ESPP for what it is: an employee benefit that can be nice part of their financial portfolio.
In the first installment of this blog series on ESPP education, we'll look at establishing program goals and deciding on education formats and channels.
Planning for ESPP education begins with goals
An educational program for an ESPP, done right, is viewed as a real project with deliverables, goals, and deadlines.
First, determine what your goals are. For example, a common goal is to increase plan participation. Analyze your current ESPP participation rates and then consider how much they might be improved.
Another goal might be to decrease employee inquiries, in particular if there are many questions on the same topic.
Additionally, you'll want to ask other stakeholders, like Human Resources, for their input.
Collaborating on a vision for ESPP participation will help gain internal support for your education plan. Furthermore, other stakeholders may decide to jump on the bandwagon and include ESPP related information in their own communications. When it comes to managing the asset of employees, nothing is better than a shared vision for success.
Once you are clear on your objectives, it's time to consider the options you have to reach employees.
Develop a plan to promote your ESPP through strong engagement channels
In this step, you'll want to brainstorm ways to promote the ESPP to employees. Keep in mind that your ESPP is likely just one of multiple benefits that the employee is offered. This means that your communications are probably one of many that the worker receives. Ultimately, you are competing for their attention.
While this doesn't mean an internal power struggle over employee engagement, it's a fact that attention spans are short these days. Your education plan does need to grab attention - whether it be via email inbox, social media channel or simply just a sliver of the employee's brain power. For this reason, selecting the best channels to reach your employees is a key factor in achieving success from your education efforts.
Formats and channels for sharing information with ESPP plan participants in 2022 can include the following:
emails
company intranet or wiki page announcements
text messages
social media posts (Twitter, Instagram, YouTube)
short videos distributed via the channels above
webinar meetings
in person meetings or Q&A sessions
printed materials like plan documents and FAQs
games and contests
posters
company benefits fairs
other creative methods
Usually, there's not a one-size-fits all approach ESPP education. For most companies, a combination of the above are used. Which combination really depends on the unique aspects of the company and it's workforce.
Whatever formats are chosen should tap into the strongest opportunities for employee engagement. For example, your workplace depends heavily on email for daily interactions, then email may be a solid means to share information about the ESPP. Conversely, if your demographics skew towards a younger workforce, brief videos and text through channels like social media, text and wikis may better fit the bill than email.
Along those lines, things that drive a company's education decisions on approach can include:
Employee generational demographics
Geographic location of workforce population
Types of workers and general access to technology, such as a computer
Languages spoken by employees
Impact of local regulations and requirements on communication formats and data privacy
Communication preferences of employees
Evaluating these variables in the initial phase of planning for employee education can be incredibly valuable in connecting your information with the workforce.
Use data and trends to finalize decisions on how to engage employees
You've got the framework of a plan coming together. You think you know how and where to reach your employees. In finalizing the formats and channels, some data may help clear up areas of ambiguity.
In the NASPP and Deloitte Consulting's 2020 Domestic Stock Plan Administration Survey, some key data on participant education surfaced:
Only 55% of respondents are conducting in person meetings to educate employees (down from 70% in 2017). Instead, a preference for electronic means of communication is emerging. A shift toward on-demand information and resources is an important trend to consider in building your plan around ESPP education.
Of responding companies who say they do educational presentations on the ESPP to employees, 63% use webinars to deliver presentation content to employees and 26% use video. The latter could likely fit an "on demand" model of pre-recorded videos to disseminate information.
Companies who said yes to using any of the following additional formats of communication leverage the following as indicated: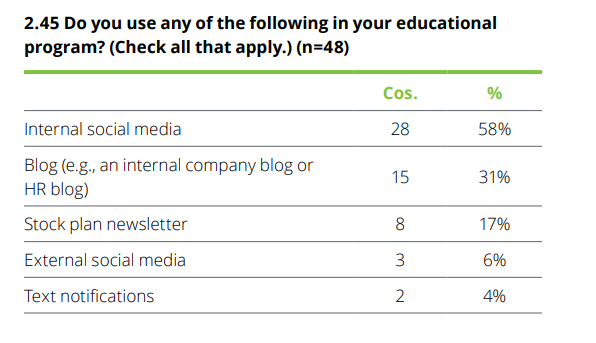 Once you have settled on goals, formats and channels for your employee stock purchase plan education program, the next step will be to figure out "what" information to explore in your resources.
Our next installment of this blog series on ESPP education will cover that topic. In the meantime, whether your plan has been around for years or is just in the works, thoughtful consideration of objectives and engagement options can create a foundation for a stellar educational effort.
By Jennifer

Namazi

Content Director

NASPP